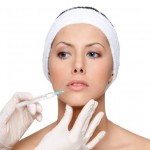 Rimpels
Botox is een clostridium botuline toxine A dat een spierverslappende werking heeft waardoor de mimiek rimpels vervagen.
Botox wordt met name toegepast voor rimpels in de frons, het voorhoofd, de kraaiepootjes, de kin, de mondhoeken en de hals.
Er kan zelfs een kleine lift van de wenkbrauwen of de wangen mee uitgevoerd worden.
Het effect van de botox begint na een week en houdt 4-6 maanden aan.
Overmatig transpireren
Een op de honderd mensen heeft last van overmatig transpireren (hyperhidrose).
Ook deze aandoening in o.a. oksels, handen, voorhoofd of rug kan met botox inspuitingen behandeld worden.
Met één behandeling bent u 7 à 9 maanden "droog".